TWISTED TWOSOME
Racer McKay is a broody bastard.
From the moment I met him, he's been rude, irritable, and unbearable.
A contractor working to remodel my parents pool house for extra cash, he stomps around in those clunky construction boots with his tool belt wrapped around his narrow waist, and a chip on his shoulder.
Racer McKay is also infuriatingly . . . sexy as hell. I want to take that pencil tucked behind his ear, and draw lazy lines slowly up and down his body all the while wanting to strangle him at the same time.
We try to stay out of each other's way . . . that is until I have no other option but to ask for his help.
But what I don't realize is he needs me just as much as I need him. I have money he's desperate for, and he holds the key to making my dreams come true.
Our pranks turn from sarcastic banter, to sexual tension and lust-filled glances. Bickering matches quickly morph into slow burn moments. We're hot, we're cold. We push and pull. I need him, I don't want him. We're on the verge of combusting with an agreement dangling dangerously between us. Neither one of us can afford to lose one another and yet, we're finding it quite hard to decipher the line that rests between love and hate.
*Twisted Twosome is a stand alone romantic comedy.
I have absolutely
adored
every book I've picked up from Meghan Quinn, which may explain why so many of her paperbacks grace my shelves.
Twisted Twosome
will shortly join its compadres. This story was full of laughs, steam, fun, angst, emotions, and plain old love.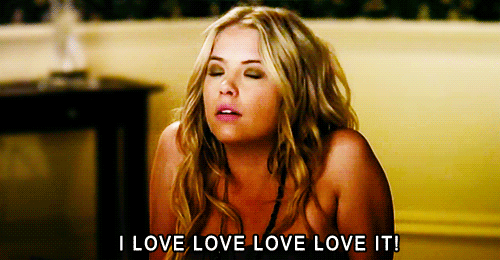 Georgiana comes from money, none of it her own, and she's got dreams that will take her beyond the carefully planned out life her chauvinistic father has laid out for her. Refusing to be the trophy wife her father always wanted her to be, she goes against his wishes to start her own business. But daddy won't make it easy for her. Racer comes from the wrong side of the tracks and to say that money was tight for him would be an understatement. If you've been following the backstory, he's one of Tucker's best friends and they work construction together. In order to honor his father's legacy, he's stretched himself thin by doing side jobs. Like building shelves while wearing this uniform:
Well, hello!
When Georgie can't find anyone to help her remodel her shop, Racer steps in to save the day. But things aren't smooth sailing. Until this point, he's rubbed her the wrong way, but I loved how the attraction was building behind every one of their barbed words and snide comments.
Every time they fought, bantered, conversated, pranked, played games… I just wanted them to bang it out LOL!! I guess this story can be categorized as enemies-to-lovers, but I could never really see these two as enemies. Were they at odds? Yeah, for the most part. But two good-to-the-bone people cannot be enemies. Especially when Racer says things like this:
"With heartfelt encouragement comes monumental accomplishments."
All joking aside, and really Racer was a joker, he was also smart, loyal and kind and his pure heart shines through with every turn of the page. Honestly, I was laughing and swooning so hard while reading this book. Quinn writes some truly hilarious and honest and amazing and real heroes… and her heroines are feisty, stubborn, witty, and fierce. Racer and Georgie's story was really about how oil and water
DO
mix.
P.S.
I'm hoping there's a story coming up for Smalls. *hint hint nudge nudge*
Release Date: August 3, 2017
Genre: Romantic Comedy
POV: Dual - 1st person
Heat: 4 out of 5
Type: Standalone

Excerpt:
"Thanks for lunch, I haven't had a fine peanut butter and jelly sandwich in quite some time." Racer takes a giant bite from one of three sandwiches I made him. The man can eat; I just want to know where he puts it all. "What is this, crunchy peanut butter?" He looks over the sandwich, studying it intently.
"Yes, it's crunchy with mixed berry jam."
He nods and takes another bite. He talks with his mouth full, which for some weird reason makes him oddly adorable. "Nice touch, George. The peanuts add a nice texture."
"Are you going all food critic on my PB and J skills right now?"
Lifting his shirt, he dabs away some of the sweat that's collecting on his forehead, beneath his backward hat. His abs flex with the movement, drawing my attention. Each divot calling out to me to touch, to examine . . . to lick.
"I think every human should be judged on their PB and J skills."
I pull my eyes away from his stomach just in time not to get caught staring. "Why do you think that?"
"Because," he takes another bite, "I think building a peanut butter and jelly sandwich is in everyone's repertoire, but only the truly skilled know how to make a proper one. And I want to be friends with the truly skilled."
"Is that so?" I take a drink of my green tea and study him for a second, watching the way the muscles in his jaw move with each bite and swallow. It's sexy.
His neck is sexy? Is that possible?
"So where do I land on your scale of sandwich artists?"
He smiles from my term, and I realize how much I adore his boyish charm. Pulling his eyes away from me, he examines one of the sandwiches I made him and starts assessing it. "Good ratio of peanut butter to jelly. Nice choice in bread. The crunch you added has been a pleasant surprise, and the mixed berry jam is fucking delightful." I giggle from his girly term. "But . . ."
I perk up; there's a but? "But what?"
He quirks his mouth to the side, almost to say, "Sorry, but you're not quite perfect." "The bread, it should have been toasted. Toasting it would have taken you to boss level when it comes to the PB and J."
"Toasting it?"
He nods and takes another bite. "When you don't toast a peanut butter and jelly sandwich, the peanut butter and bread form a paste on the roof of your mouth. Even though it tastes good, it can get quite irritating."
"But I didn't have a toaster."
"Rookie mistake."
"Well, If I knew I was going to be critiqued, I would have sprung for bacon."
He pauses mid bite and stares at me over his sandwich. "You're a beast for bringing up the option."
I polish off the rest of my sandwich and wipe my fingers. "Well, maybe next time you'll communicate expectations better. I'm not a mind reader, Racer. Frankly, the fact I didn't make boss level is on you, not me."
I stand and gather my trash as he stares me down. "Don't you turn this on me. You didn't have a toaster. The toaster is what's key. This is on you, Georgie. This is on you!" he calls out as I make my way to the back, laughing to myself the entire time.
Born in New York and raised in Southern California, Meghan has grown into a sassy, peanut butter eating, blonde haired swearing, animal hoarding lady. She is known to bust out and dance if "It's Raining Men" starts beating through the air and heaven forbid you get a margarita in her, protect your legs because they may be humped.
Once she started commuting for an hour and twenty minutes every day to work for three years, she began to have conversations play in her head, real life, deep male voices and dainty lady coos kind of conversations. Perturbed and confused, she decided to either see a therapist about the hot and steamy voices running through her head or start writing them down. She decided to go with the cheaper option and started writing... enter her first novel, Caught Looking.
Now you can find the spicy, most definitely on the border of lunacy, kind of crazy lady residing in Colorado with the love of her life and her five, furry four legged children, hiking a trail or hiding behind shelves at grocery stores, wondering what kind of lube the nervous stranger will bring home to his wife. Oh and she loves a good boob squeeze!
Find me on Goodreads: